Suhr – Introduction of Congressman Paul Ryan
Daniel R. Suhr
Marquette Law School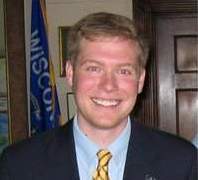 Introduction of Congressman Paul Ryan
---
A friend once described President James Madison by saying,
"The good genius of his country was in him personified." With Wisconsin
roots five generations deep, Paul Ryan personifies the goodness and genius of
Wisconsin and her people, whether that's hunting for white tail buck, raising
his three kids as diehard Packer fans, or fighting for our values in Congress.
Raised in Janesville, he majored in economics and political
science at the University of Miami Ohio. As a young staffer in D.C., he served
as legislative director for U.S. Rep. Sam Brownback and U.S. Sen. Bob Kasten. He
later worked as a speechwriter for Bill Bennett and Jack Kemp at Empower
America.
He returned to Wisconsin in 1998 to win the 1st
Congressional District seat, and he has built on his margin of victory in each
succeeding election.
In Congress, he serves on the powerful Committee on Ways
and Means and the Joint Economic Committee.
He is Wisconsin's rising star, and he's already shining
quite brightly.